Indian cuisine is a subtle taste. Flavours are as varied as climate and as exotic as the people of India. Fragrant spices, pungent and warm spices, are delicately blended in meticulous proportions to create each dish which will have its own distinctive flavour from spices which have to prepared afresh. The blending and preparation of spices is a centuries old craft to Indian cuisine

Aniseed (Suwa) is the fruit or seed from the flowering plant, Pimpinella anisum. The seeds are used whole or crushed as a flavoring in various foods, from baked goods and sweets to liquours

Asafoetida (Hing) or asafoetid (Devil's Dung) is the dried latex (oleo-gum-resin) exuded from the living rhizome, rootstock or taproot of an umbelliferous plant of varied species. A popular spice in foods and medicines.

Basil (Tulsi) is obtained from a small, erect, glabrous, profusely branched herb, indigenous to India. It forms part of the 'sweet' herbs. Basil is a member of the mint family. Basil is popular worldwide because of its rich aroma, attractive fragrance and superb blending properties when used in seasonings.

Bay Leaf (Tejpata) these fragrant leaves with pointed ends are used in their dried form. These are used in curries and rice preparations. The leaves are first browned in oil first to increase the aroma.

Black Salt (Kala Namak-Sanchal) Slightly pungent smell in the salt comes from the presence of the sulphate. This salt is used as a final garnish by sprinkling on the fresh fruits and vegetables, salads and fried savories. The salt comes in the form of different hued crystals and are ground to a powder before used for culinary purposes

Cardamom Small (Elaichi) often dubbed as the "grains of paradise" is a pungent, aromatic herb. It is the dried ripe fruit (capsules of cardamom plant) often referred as the Queen of Spices because of its very pleasant aroma and taste.

Cardamom Large (Elaichi) Large cardamom is the dried fruit of a perennial herbaceous plant. It's quality characteristics are different from that of small cardamom. The fruit is 4 to 6 times size of small cardamom.
Carom Powder-Oragano (Ajwain) it has a strong, pungent odor and flavor similar to pepper and anise. They contain thymol oil, which gives a taste reminiscent of thyme. it is used in lentil dishes, vegetable parathas, pakoras and meat dishes. .

Chillies (Mirchi) India's most important contribution to the world of spices. An annual plant, chilli comes in a wide variety of shapes, sizes, colours and in different degrees of pungency.

Cinnamon (Dalchini) is a spice obtained from the inner bark of several trees from the genus Cinnamomum that is used in both sweet and savoury foods.

Clove (Lavang) are the aromatic dried flower buds of a tree in the family Myrtaceae. They have a numbing effect on mouth tissues. The flower buds are at first of a pale color and gradually become green, after which they develop into a bright red.

Coriander (Dhanya) The name `coriander' is based on the Greek work `kopis' which means `bug'. Coriander requires full exposure to sunlight but with less heat and medium-to-heavy loamy soil, good drainage and well-distributed moisture.

Cumin (Zeera) Though native to Egypt and the Mediterranean, cumin is now mostly produced in India.

Dill Seeds (Suwa) are dried fruit of the herb of parsley family. Seeds are oval-shaped, soft and fluffy, has a pungent and aromatic. Seeds are use to treat colic or gas in children. Dill is useful addition to cough, cold and flu remedies.
Fennel (Saunf) Ancient Indians used fennel as a condiment and culinary spice. In Greece, it was a symbol of success. In Rome, the young fennel shoots were used as food. Pliny considered it good for improved vision.

Fenugreek (Methi) The ripe, dried fruit of a quick-growing annual leguminous herb, fenugreek has a strong, pleasant and quite peculiar odour reminiscent of maple.

Garlic (Lasan) Garlic is a hardy bulbous annual, with narrow flat leaves a pungent and acid flavour and acknowledged medicinal value. The entire bulb ('cloves') is almost without odour but, once cut, they produce an intensely strong and characteristic odour.

Ginger (Adrak) has been cultivated in India both as a fresh vegetable and marketed as a dried spice since time immemorial. Ginger has always meant many things to many people. A taste- maker. A flavourant. An appetizer. A drug.
Indian Curry Powder is a careful blend of selected spices grounded and mixed to add pep, Spices are ground and mixed in proportions to produce curry powder. Important ingredients in curry powder are coriander, turmeric, chillies, cumin, pepper, ginger, cinnamon, cassia, clove etc.

Jaggery (Gud) is a concentrated product of cane juice or date juice without separation of the molasses and crystals, and can vary from golden brown to dark brown in color. Jaggery is mixed with peanuts, condensed milk, coconut etc to make Indian delicacies.

Kokam (Garcinia) is spice with flavour and sweet, acidic taste. Its oils, seeds, fruits, bark and the young leaves are all of culinary and therapeutic value. Kokam is cholagogue, cooling, demulcent, emollient,soothing and antiseptic.

Licorice (Jethimadh) Its good for sore throat. It can be used in teas, cookies. It is the rhizome of a bean plant. The dried roots look like pieces of dried wood, very hard and fibrous available as dried, woody pieces of root as a powder

Mango Amchur Powder Unripe green mangoes are dried and powdered to make amchoor powder, a tart pale beige to brownish powder used in dishes where acidity is required. Amchoor is used to add a sour tangy fruity flavor without moisture in northern Indian dishes
Musterd (Rai) are small seeds of mustard plants, colored yellowish white to black. Seeds are shallow fried in little oil or ghee until they pop and used as a garnish. Seeds great source of omega-3 fatty acids, iron, calcium, zinc, manganese and magnesium.

Nutmeg (Jaifal) is used in many sweet as well as savoury Mughlai cuisine. It is also added in small quantities as a medicine for infants. It may also be used in small quantities in garam masala. Ground nutmeg is also smoked in India.

Onion Seeds (Kalonjii) are small, irregular shaped black seeds of the plant that grows in India - Kalonji. This spice can be used fresh or dry roasted in curries, and added to vegetables, relishes, pickles and yogurts .

Pepper (Mari) Popularly known as the `King of Spices', the best quality pepper is grown in the monsoon forests along the Malabar Coast in South India.

Pomogranet Seeds (Anar Dana) is the dried seeds of varieties of pomegranate (Punica granatum) too sour to eat as fresh fruit; they have a tangy, fruity flavor. Used in India to sour chutneys they are also used in pastries and breads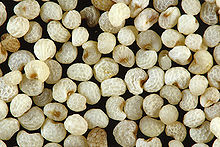 Poppy Seeds (Khus Khus) is an oilseed obtained from the opium poppy. The tiny kidney-shaped seeds have been harvested from dried seed pods. They are highly nutritious, added in dough while baking bread, and recommended for pregnant women and new mothers.
Saffron (Kesar) is the slender, dried, reddish-brown, flattened stigma of a small crocus. It has aromatic odour and a peculiar, exotic, bitter taste. It takes 100,000 hand-picked blooms to obtain one KG of dried saffron!. Saffron is world's costliest spice.
Sesame Seed (Til) has one of the highest oil contents, With a rich nutty flavor. Sesame seeds come in many colours, Sesame seed cookies and wafers, both sweet and savory, are popular.

Tamarind (Imli) The fruit of a tropical tree. This spice also comes in the forms of pulp and juice concentrates which mainly go into the preparation of cool drinks, seafoods and a range of sophisticated cuisine.

Turmeric (Haldi) With its rich curcumin content, which imparts the distinctive yellow colour, and other inherent qualities, Indian turmeric is considered the best in the world.